Ice Out Draw
2021 Ice out photo's
·
April 14th - ALL GONE!!
[Tomahawk 14-Apr-21, 09:51 AM, 1755x]
Subject:
April 14th - ALL GONE!!
From:
info@tomahawkresort.com
We woke up thismorning to open water an no ice! As as thismorning, Regina Bay is all free and clear of ice! Congratulations to Ashley for having the closest guess to ice out. There were no entries for today, but Ashley's guess for 3 pm yesterday was our next closest! Thanks to everyone for participating with some great guesses and possible dates! :)
·
April 13th conditions
[Tomahawk 13-Apr-21, 07:16 PM, 1811x]
Subject:
April 13th conditions
From:
The ice is just about gone! The northwinds kept eating away at it today busting it up. Temps were just above the freezing mark with drizzle all day. Regina Bay should be all free of ice by tomorrow morning!
·
April 12th conditions
[Tomahawk 12-Apr-21, 03:40 PM, 1819x]
Subject:
April 12th conditions
From:
We woke up to a touch of winter this morning with wet snow on the ground, but was short lived. The flakes have turned to mostly drizzle now. Some steady NE winds have been eating away the ice, getting it to start moving around and opening up more. Getting pretty close now!
·
April 10th conditions
[Tomahawk 11-Apr-21, 09:59 AM, 1885x]
Subject:
April 10th conditions
From: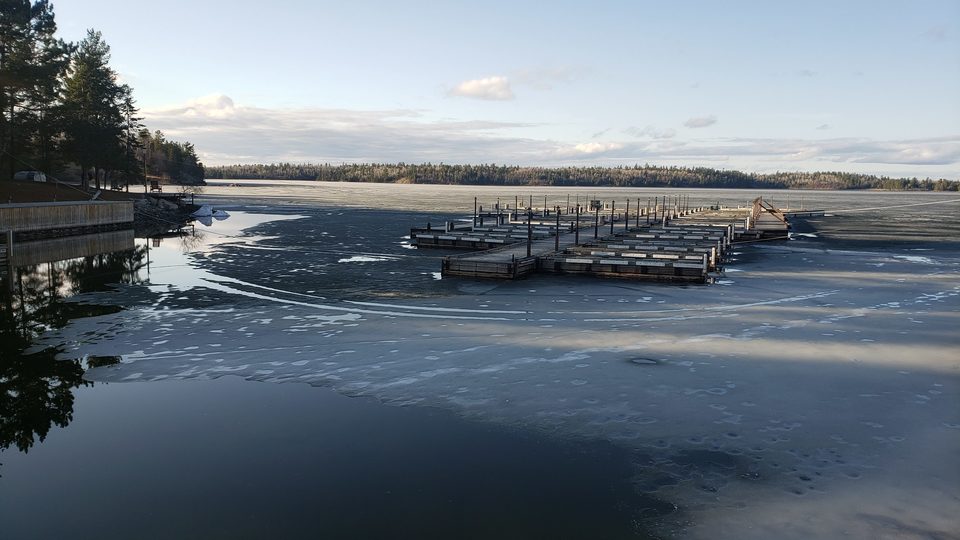 The ice is getting really close to going out. The cracks in the middle are widening. There was very little wind yesterday so the ice didn't move to much, but warm temps. We have some winter returning again today with rain/drizzle thisafternoon and then turn to snow through all tomorrow and into Tuesday. Winds are forecast to be NE ast 20km/h (12mph) so that could get things moving around a bit.
·
Aprill 9th conditions
[Tomahawk 10-Apr-21, 08:50 AM, 1889x]
Subject:
Aprill 9th conditions
From:
The ice is pretty much ready to go out now. Just need some wind over the next few days. It is open on the far east side of Regina Bay, and some fairly major cracks in the middle. Once the pieces start moving around and working against themselves, it won't take long from there.
·
April 8th conditions
[Tomahawk 09-Apr-21, 07:35 AM, 1916x]
Subject:
April 8th conditions
From:
It was a windy cool and very wet day with a steady drizzle. Temps weren't overly warm, but the rain and gusty north winds played havoc on the ice. Lobstick Bay is all open now, as well as the east end of Long Bay. Things have opened up a lot under the Sioux Narrows bridge on the west end of Regina Bay. A big crack has formed in front of the cabins heading straight out across the bay. Forecast is to be cool and rainy again today with some north winds. The ice is quite rotten and now it's just wind that's needed to get it to start moving. Won't be long now!
·
April 6th conditions
[Tomahawk 06-Apr-21, 05:50 PM, 1964x]
Subject:
April 6th conditions
From:
The warm temps are eating away more at the ice. It is looking really soft and mushy out there. Some of the pressure ridge cracks are starting to open a bit. Ice has been changing colour all day from dark blue to now more white on top. That's a sign that it's starting to get pretty rotten. High today was mid 50's (12C) with a bit of breeze, and forecast is for strong NE winds tomorrow with showers starting tomorrow night and rain through Friday. All the small lakes and back bays are starting to open. It looks to be an early ice out this year I think!
·
April 5th conditions
[Tomahawk 05-Apr-21, 06:06 PM, 2001x]
Subject:
April 5th conditions
From:
The ice is really starting to turn to mush now. Our warm temps yesterday (just about broke a record) and today with some winds is really turning that ice rotten. Our forecast for the week is to be quite mild again (maybe get down to freezing point tonight), but then about 60 degrees tomorrow (15C) and rain starting Wednesday to Friday. After tonight no signs of freezing in the forecast.

Today is also the last day to put your guess in for the ice out. You have till 11:59 PM tonight to place your guess!
·
April 3rd conditions
[Tomahawk 03-Apr-21, 07:59 PM, 2045x]
Subject:
April 3rd conditions
From:
There are a few pressure ridges that are starting to open, which can cause the ice to shift around a bit as well. It is looking pretty mushy and rotten. The back shallow bays have started to open. Water levels are extremely low and conditions are dry, so we are hoping to see some good rains this spring to fill up the water basin. The temps over the past 2 days have really warmed up with clear sunny skies and highs in the upper 50's (14C) and lows staying just above the freezing mark at night. Yesterday saw some gustier south winds with those temps which can really eat up the ice pretty fast. Forecast next couple of days is to be quite warm with forecasted highs tomorrow breaking 60 (16C) and staying very warm all week. We could be having a much earlier ice out than normal if these temperatures maintain.
·
March 31st conditions
[Tomahawk 31-Mar-21, 06:00 PM, 2056x]
Subject:
March 31st conditions
From:
We had a pretty good cold snap over the past few days with a return of old man winter. Temps were well below freezing the past few nights (-15C, 5 F), and yesterday and today we saw the highs not quite break the freezing point, and very strong NW winds all day yesterday. That stiffened everything up out there, but the wind did cause the ice to shift a bit building up some small ridges in the middle where there are cracks. Forecast coming up this week and over the weekend is to be sunny and back up above normal temps with lows staying above freezing and highs up to 14-15C (55-59F). So that will soften things up and begin to darken the colour of the ice!
·
March 26th conditions
[Tomahawk 26-Mar-21, 07:57 PM, 2120x]
Subject:
March 26th conditions
From: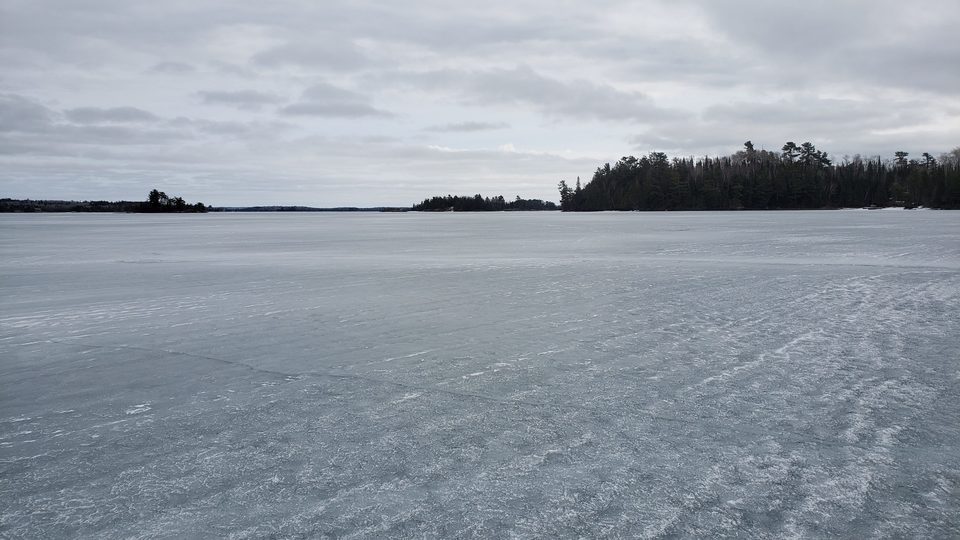 Temps have been cool but still getting up above the melting point the past few days. Ice is still pretty solid yet, not too much change the past few days. This weekend is to be cool again in the low 40s (5C) and dipping below freezing at night. The forecast for next week is a cold front coming in on Tuesday with a few pretty chilly days (staying well below freezing). Could be slow to little change the ice throughout the weekend.
·
March 23rd conditions
[Tomahawk Resort 23-Mar-21, 12:43 PM, 2159x]
Subject:
March 23rd conditions
From:
Spring has come early this year and have had some significant melting going on. Ice conditions have deteriorated alot and with no snow left on the ice and with the mild temps we have had a few rains which are also eating away at it. This year has been a different ice year as well as we had a fairly mild winter (with the occasional cold snaps which were short lived), so ice thickness didn't get to where it normally is. In the middle of Regina Bay, we are only finding 14", which normally around first of April should have anywhere between 18-24". Today's forecast is back into the upper 40's to 50's (10C), but forecast is calling for cooler temps for the rest of the week and through the weekend (freezing hard at night and just getting above melting temps during the day).